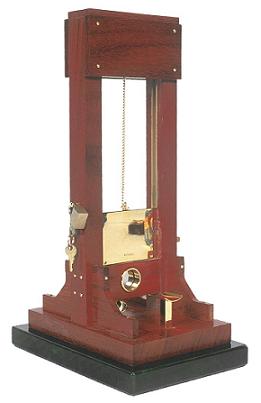 I do not have the contact number or the email address of Donald Trump or I would have surely recommended it to the boss. He can use this little medieval marvel on his show 'The Apprentice' and it would go along perfectly with the style of 'The Donald'. This is the Cigar Guillotine and it is designed to make your boss's table look more ruthless than it already is. This would be indeed a perfect addition to the board room firing scenes in the reality show of Trump and he in fact can slice a cigar and say 'you're fired'.
This obnoxious Cigar Guillotine has dimensions of 20cm x 14cm x 33.5cm and the space on the chopping block is enough to slice up to 50 gauge cigars, all at once. It looks really cool and obviously is designed for those who take great pleasure in their smoke filled indulgence. It is very stylishly crafted and would give a nice look to any boardroom desk; that is if you are the boss in there. If you are an employee who screwed up the last task given to you, then this is your worst nightmares coming true.

Apart from the wonderful design and the ruthless execution of the guillotine, it also comes at a premium price. Each one of these crafted pieces is available at $381.95. Yup, that's right, it costs plenty or in more appropriate terms; it slices a huge chunk of your wallet too. But then if you smoke some of the best cigars in the world, then I bet you can afford it or you are just like that crazy Kramer from Seinfeld. Irrespective of all that, I'm sure Donald Trump can afford one. Come on Donald, go ahead and buy one, it will add some fun to your boring show.