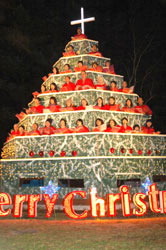 Christmas is on the cards and everyone must be busy in shopping and decorating their homes. Here is something very special and wonderful that will add up to your Christmas celebrations. A Christmas tree that's 7 meters high and has 40 people singing carols. This 7-story pyramid is a unique and beautiful Christmas tree. The 40 people, who are dressed in red gowns perform carols. Wow! It would have been great to be a part of this very special Christmas tree.
Thanks to the Church of US that gifted this illuminated Christmas tree. It took about 2 million yen for setting it in the garden.
It's really a great show and the venue is the 'The garden of the Megumi Chalet Karuizawa'. On weekends and public holidays this singing human Christmas tree will do shows until Christmas Eve. The choir will sing carols such as 'Silent Night' and so on.
People living in Japan can make their weekends and holidays more interesting. Of course, it's worth flying to the place to watch the bright human Christmas tree.