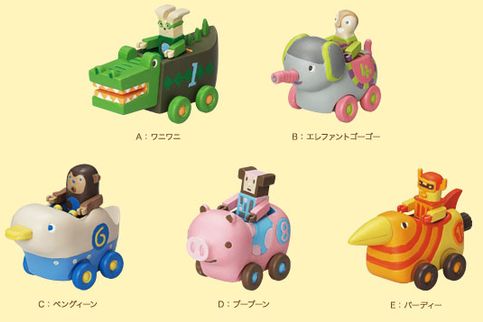 Welcome to the world of Carnimals, the latest set of toys from Megahouse! They are an ideal decoration for your barren computer top or the display cabinet.
The little toy animals ride in vehicles, which surprisingly resemble another animal. Now that's what I call respecting your own species!

The Carnimals are an object of interest, not only due to their cute appearance, but also because of a fascinating story associated with them. Which goes like this.
They are supposedly alien life forms, coexisting happily and peacefully with spacemen, on a planet called Sua. They are said to be real living vehicles and not animals, fuelled by the mysterious Anima spirit, living in the Sua forest.
Now, listen to this, they have a life span of 100 light years….wow!
So, if you are looking for a gift to pass on to someone special, then you needn't go any further. Do let the Carnimals bring a flicker of smile on the person's lips!
Via: Tokyomango