Worried about your car's wrecked appearance? Go for DIY paint job and save thousands of bucks. However, car painting requires you follow proper technique, suitable weather conditions and a lot of spare time. Reliable auto parts dealer www.autoDoc.co.uk  has provided us guidance on how to spray paint your car and make it look as good as new in no time! They have also been offering cheap car repair services and supplying high quality car parts since past 8 years.
Materials Needed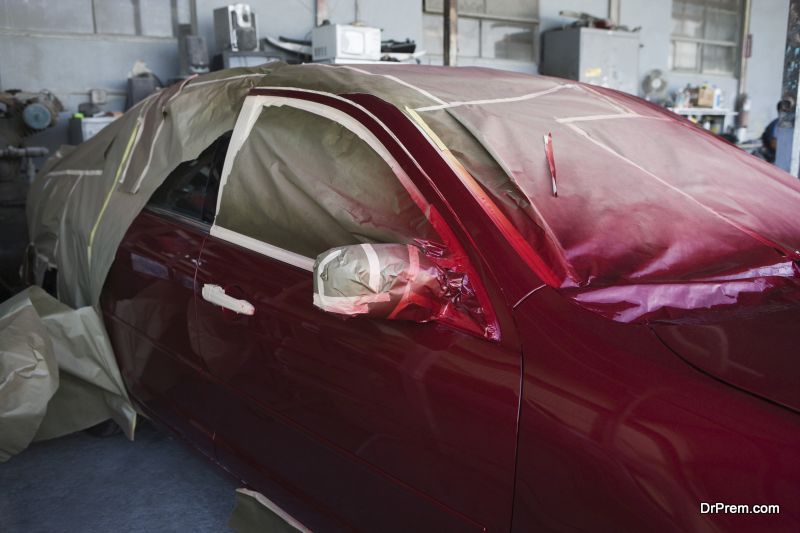 Car painting is a time-consuming job, so it is wise to take out time on weekends and gather all the required materials beforehand. You can paint your car outdoors if the weather permits you, but the best way is using a shed to avoid any interference. The materials needed for a DIY car paint job are:
1200-2000 grit wet and dry sandpaper
Masking tape/Newspaper (for masking off)
Spray gun
Buffers
Paint thinners
Basecoat
Topcoat (Acrylic or enamel paint with color of your choice)
Clear-coat
Face masks, safety glasses (for your protection)
Dust extractor (optional, to keep the surface clean)
Although professionals use less paint to complete their job, but you should keep more to stay on the safe side. For small/medium sized cars, use 1 gallon of basecoat, 3 gallons of topcoat and 2-3 gallons of clear-coat. For large cars, you can use 1 ½ gallons of basecoat, 4 gallons of topcoat and 3-4 gallons of clear-coat.
Prepping Process
You need to prepare the working area before you start painting. This demands removal of dust, grease and road grime. You can wash the car with simple soapy water or use the dust extractor. Clean the exterior of your car thoroughly. If you wish not to paint certain areas, mask them with a masking tape, which you can remove later.
Sanding Process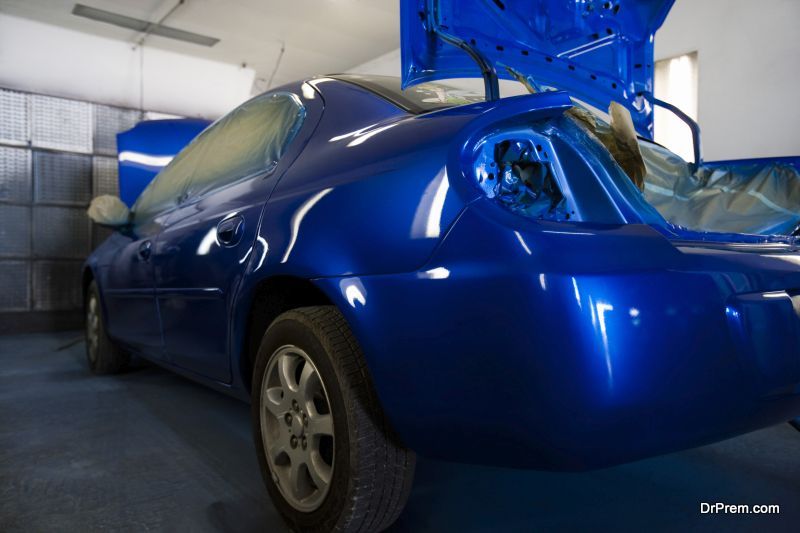 Before you apply the fresh coat, you need to strip down the old paint from your car. This requires scrubbing your car's surface with sandpaper in circular motion. A fine sandpaper will remove traces of old car paint, rust and scratches too. For deep scratches or gaps, fill them with putty and let it dry out before applying the basecoat.
Priming Process
Begin the process by covering windows, wheels, bumpers, side mirrors and other such areas with masking tape or newspaper to avoid issues due to over-spraying. Mix the basecoat (primer) with thinner as per instructions on the paint can. Load it in a spray gun and spray a single or several coats (each coat after 20 minutes interval). After the paint dries, use a 2000-grit wet to dry sand paper to smoothen out the rough paint surface.
Pro Tip: It's best to practice on a rough surface before you start spray painting for the first time. Take a piece of scrap metal and hold the spray gun 6 inches away from it. Begin spraying in a sweeping motion for an evenly sprayed coat.
Painting Process
Clean your spray gun and repeat the process, but now using a topcoat. After the final coat dries out, remove any powdery residue with a light scrub of sanding paper and apply car wax/clear-coat for a smooth and shiny finish. Buff the clear paint with a buffer in circular motions, but don't hold it for too long, else the paint will burn.
Article Submitted By Community Writer