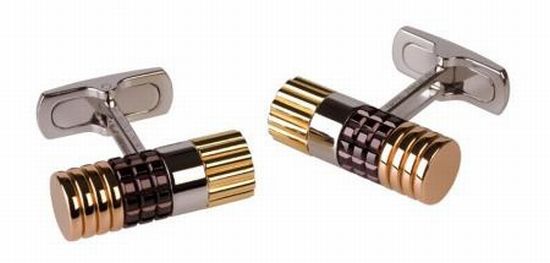 Wondering for a unique gift with limited choices? What could be better than the new Boucheron Quatre or cufflinks! These cufflinks from Boucheron's Quatre collection are ideal for formal, semi-formal to casual occasions.
With the simple trigonometric designs with cylinders and checkered designs all gelled well into a symmetric pattern, the Boucheron Quatre or Cufflinks use four different types of gold in one mélange. They look extremely appealing and will help you make a style statement even without any expression, with just a wave of your hands.
The Boucheron Quatre or Cufflinks use four types of gold like chocolate, rose, white and yellow in a singular pattern to create a dashing look. While the white gold is placed quite plainly in a simple smooth pattern, the chocolate color is put in a rectangular choco-bar checkered look. The best thing about these cufflinks is that they are unisex and can be used by both men and women alike on a wide range of suits.
Available in Boucheron stores worldwide, these cufflinks will catch you some much vied after attention for sure. A personalized trick up your sleeve!
Via: Sybarites