Lumisource presents BoomChair, a piece of multi- media furniture for the purpose of entertainment. They feature interior speakers and vibration motors that enhance video games, music and movies. You'll actually feel a part of them.
They are made out of a couple of different materials including, Microsaude, vinyl, and mesh.
These tech chairs compete with other such products available in the market by going to trade shows and also by selling products at house hold name stores.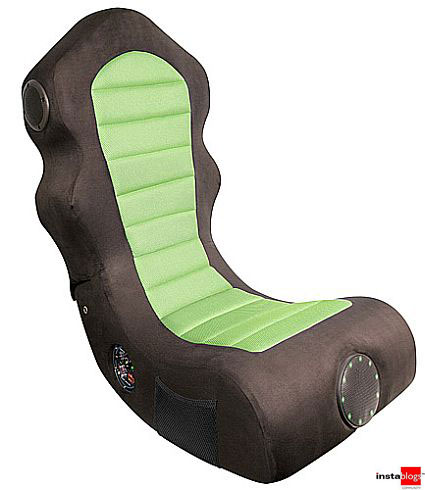 It's called Helix. It's got a pair of two 3′ 2- way speakers with 4 interactive dynamic vibration motors. LEDs are on control panel & subwoofer. The volume and vibration are completely adjustable. Keeping your comfort on priority, the design is specifically made ergonomically and have recline stoppers too. Not to miss the storage pockets along the two sides.
It's measuring around 27′ L x 19′ W x 31′ H and can be folded into half for convenient storage.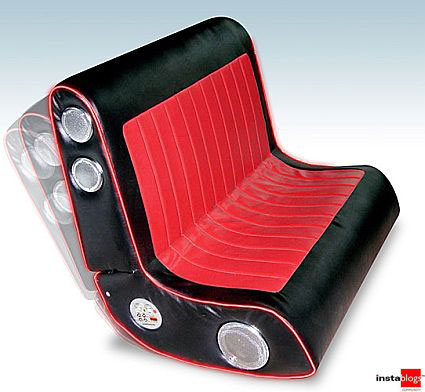 This Rumbleseat BoomChair is perfect for the two-player game or even for just lounging around. It is designed with interactive vibration motors, two pairs of three inch 2-way speakers, a pair of 4′ subwoofers and best yet, comfortable seating! This larger style even folds for convenient storage. It is available in a vintage Black/Red vinyl and in a Grey or Blue Microsuede.
Measurements: 29′ L x 42′ W x 32′ H.


This one's Buddy. It has built in 3′ 2- way speakers, like the previous ones, the volume is fully adjustable. Other feature include, RCA input ports, headphone jack, plush microsuede surface, side storage pockets and built in handle for easy transportation. This too has egronomic in design. Audio cords would be included with this and it can also connect to any audio and video device.
Measurements: 32′ L x 18′ W x 19′ H.
These products are especially designed for gamers in the age group of 18-30 years old.
You may have them in various colors, like black/grey, black/blue, black/green, black/red, grey, or blue. And it'll cost you around $85 – $125.
Special thanks to Jessi Wuellner, (LumiSource, Inc.) for providing us with the exclusive information about the products.