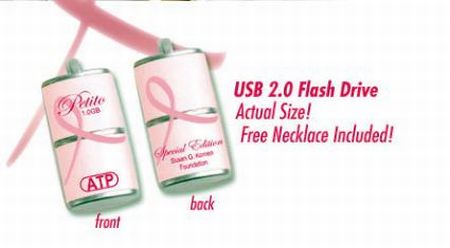 First up it was SanDisk with those little purple devices against Alzheimer's, and now its ATP against Breast Cancer. ATP has launched a Pink Ribbon Petito flash drive range after joining hands with Susan G. Komen foundation, in order to fight breast cancer. An undisclosed amount of money will go to this foundation, with the money raised from these drives.
Presently these drives come 512GB, 1GB, and 2GB of memory.


ATP boasts that these drives are the smallest and the smartest drives around in the market. In addition these drives can be worn as a pendant, and drives are available at profound stores like Costco, Target, Staples, and other ATP retailer stores. It sounds good that many companies are coming forward and helping against some wicked diseases but the question is that how much money actually goes to the needy.
Via: Gadgetell