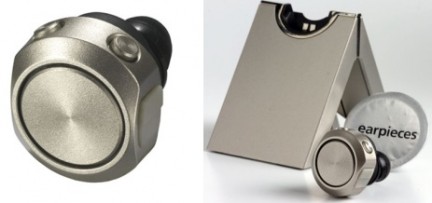 If you are a technoholic, then this tiny piece of Bluetooth device will surely catch your eyes in the coming season. Adtec introduces its latest model of Bluetooth earphone, the AD-HSM10. Considering the multitude of their teensy set Adtec claims that it's 'the smallest headset in the world".
Moreover, as this little chip only weighs 5 grams; after a while of having it on, you may forget it's even resting in your ear canal. Besides the dimension may seem to be almost negligible as it measures just 2.29 x 2.18 x 3 cm.

However this wee earpiece is not as minor as it looks with respect to its service. You can listen to your favorite songs through solid three hours with AD-HSM10 or else you can keep it on 100 hours in standby mode with a recharge of 1.5 hours. Again in case, if you are not satisfied with the silver color, a titanium one also will be there in the market.
Motorola's Miniblue H9 has lots of similarities with this model, yet if you are interested you can go for this exclusive one at a price of $ 78. The product will be available from this January only.
via: Mobileblog