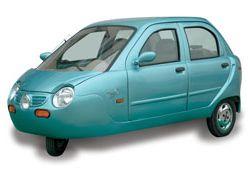 Zap Zebra, is a cool, compact electrical car. Wow! that means for recharging we just have to plug it into some electrical outlet like our mobile phone. This three wheeler is extremely lightweight, having a height of 5 foot and 9 foot length.
It provides enough space for 4 people to sit comfortable. You can make your pick from four colors including Kiwi Green, Aqua Turquoise, Zebra Flash Sunset Red. I really liked Zebra Flash as it reminded me of adorable Zebra's. Its priced at $8,995.
It's really good news for all the environment lovers as it emits 98% less pollutants than other gas cars. With Zap Zebra, instead of spending all our pocket money on oil and gas we can actually do some constructive things like…..Partying Harder.
Also See ZapWorld