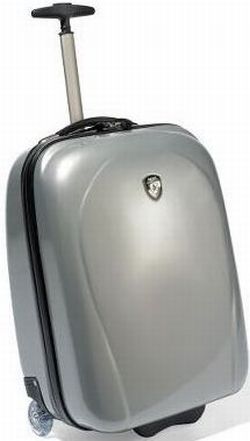 In the era of rolling carry-on, this is the world's lightest rolling carry-on. It is 44″ in size it weighs only 5.5 lbs and when the weight spreads across the dimensions, its weight per cubic inch is 0.0019lbs/cubic inch. It is made up of ABS/polycarbonate parts, which is 2.6 mm thick and gives full protection to the fabrics. The cover is made of scratch resistant material, which can withstand 250 lbs/ft of force without suffering from any dent. With all these qualities it sounds to be very durable.
Both the parts of the protective shell get interlocked when closed so that it is fully waterproof and the security is even more with the ABS zipper pulled and that will not corrode. Inside the space is 2,940 cubic inch that is lined up by 420-denier nylon and there is a built-in divider with a mesh pocket.
The roll on wheels are made of steel ball bearings that are covered with the wheel rubber used in in-line skates so that it does not get corroded by continuous traveling. The aluminum handle is 18″ with a soft rubber grip that can be stretched during carrying or folded during storage with just touching the button.
Its dimensions are: 20″L x 14″W x 10″H and is available in silver and black colors. It is priced for $99.95.
Via: Bookofjoe