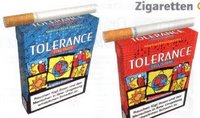 No please don't misinterpret I am not talking about any tobacco product which will increase your tolerance level its just the brand's name. Tolerance cigarettes a product of Heintz van Landewyck, are being advertised as a product to promote positive vibes and friendliness.
Crazy Idea! How come Cigarettes are related to Peace. This firm based in Luxembourg says that by including the word 'tolerance' in the brand they want to send out a message to the masses to live together peacefully and fight against terrorism and racism.
That means non smokers cannot be a part of this brotherhood campaign. Advertising idea is pathetic god knows how's the product.
Also See Strange New Products