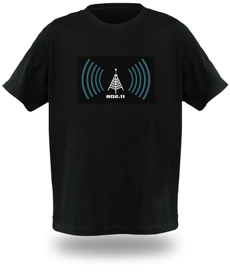 Gone are the days for carrying around a Wi-Fi detector or to open a laptop just to check whether there is any Wi-Fi internet access or not. Now you can even wear your detector. ThinkGeek presents Wi-Fi detector shirt; a cool shirt for the cool generation.
The T-shirt has a glowing animated decal on the front of the shirt. It gets lighten up whenever it finds 802.11b or 802.11g network. As you keep moving along your way the decal glows dynamically with the fluctuating Wi-Fi signal strength around you.
Three AAA batteries supply the required power to the detector. But don't worry!No one can find the battery pack as it is hidden in a small pocket inside the shirt. But one thing you have to keep in mind that if you plug the connector into the battery pack backwards then the shirt may not animate properly though it will not get damaged at all.
The cent percent cotton shirt is machine washable though you have to follow some steps for that. Carefully take off the sophisticated decal from the shirt by unplugging ribbon connectors. Unplug the battery pack and remove it too. Wash the shirt gently in cold water and hang to dry.
XL and XXL, both the sizes of the Wi-Fi shirt are available in a cool black colour for just $29.99. So if you want to show off your ultimate tech-style, get it now!