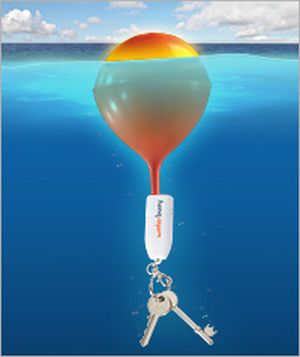 Some gadgets need a lengthy introduction and a bagful of biased opinions to clinch the victory award, whereas some just succeed in sailing past the winning flag without any extra helping. Have you ever wondered about the reason behind this strange phenomenon? Well, you can take your own sweet time to formulate your theory, but right now just pay attention to this ultimate gadget that belongs to the latter (read privileged)category. I'm talking about Waterbuoy, the magical balloon.
Its a small device that can be attached to your keys or any other valuables. The device consists of a high-pressure rubber balloon that can lift up to 1Kg and automatically inflates within seconds of hitting the water. So, where's the magic? Well, do you remember that embarrassing moment when you dropped your keys in the swimming pool? Everyone hopes for a magical intervention at such times, and this is exactly what the Waterbuoy is programmed to do! It makes your valuables practically unsinkable. The icing on the cake is the high-intensity LED beacon that's visible from over 250m at night.

So, the next time you drop your keys in those messy waters, don't panic, just enjoy a game of floating balloon. But make sure the game ends within 24 hours, because an inflated Waterbuoy will oblige you only for 24 hours.
Price: £14.95
Via: coolest-gadgets