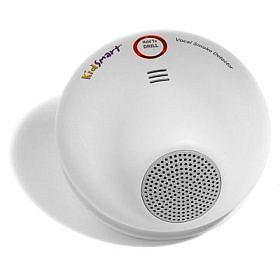 This is not your playing ball but it is much more beyond that. The ball is a KidSmart Vocal Smoke Alarm, which are especially designed to save your kids life from fire around in house.
New studies say that sleeping children respond more quickly to your smoke alarms personalized with parent's voice than the conventional ringing alarms. This KidSmart smoke detector lets you record your message specific to your child.
The Vocal Smoke Alarm includes an alarm tone, a vocal message, and a bright light ring that illuminates during drills and when there will be so much chaos your sleeping child will definitely wake-up. Sale Price: $99.00
The alarm works on batteries which should be changed after every six months.