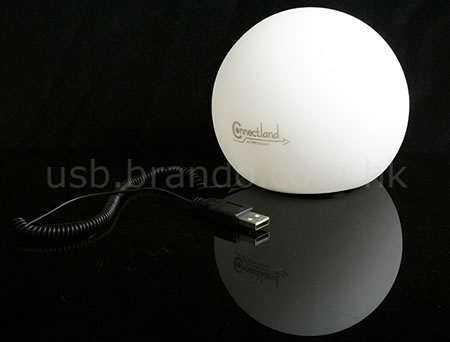 Colors have their unique aspects and effects on our mental and physical system. 'Syntonics' which is popularly known as 'color therapy' can be used as alternative or complementary medicine. Even today there are people who help their clients to get out of mental stress using color therapy. But now you can also do these experiments on yourself and enjoy the difference anytime.
USB Brando is presenting its latest gadget which they call as USB Moody Ball. Whenever you get tired of your daily monotonous schedule and need a break just get this one. Connect it to the USB port of your PC and turn on the switch. The ball will get illuminated soon and you will get to see FIVE soft colors[white, red, blue, green and purple] appearing circularly inside it.

The twinkling and auto-changing colors will have a corresponding effect upon your body-mind system. Color therapy says that white soothes the mind, heart and thought and orients them towards creativity; Red produces courage and alertness; Blue conveys confidence where as Green and Purple relax yourself and they are beneficial specially when you are mentally disturbed.
So, here goes a full formula to bring harmony at your workplace. The eye catching ball is having a bump-resistant body and an On/Off button. The 115x115x95 mm sized ball weighs just 179 g. So it's easily portable to your office-desk. USB Moody Ball is available over at USB Brando for $20. Go grab it!