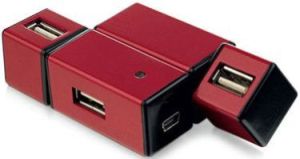 Normal USBs look so… mechanical don't they? And sometimes when you're 10-hours down working the thing seems to get uglier by the minute. Well someone finally took it upon himself to change your plain Jane USB into a hot Madonna.
The USB 2.0 Hub is the only ever of its kind to be featured in the Museum of Modern Art store and for a good reason. The item made of aluminum and ABS plastic, not only excels in looks but it's also very convenient to use as well. It's perfect for travel with one upstream and four downstream ports where you can turn both end ports in the direction of the accessory you need to attach.
The PC and MAC compatible USB easily connects to your cameras, printers and network adapters to your laptops and desktops. Dimensions: 0.75″H x 1.5″W x 3.25″L.
Source: Book of Joe