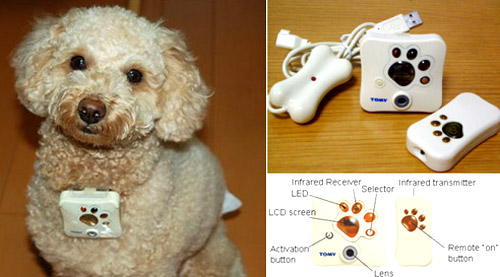 The first thought that would come to one's mind when one sees this camera is – how about gifting one nice cuddle puddle cute pet with one of these hanging around its neck to my girlfriend?
This canine camera by Takara Tomy called the 'Wonderful Shot' helps you take snaps of your wish, without even holding a camera. Just tie it with your pet's collar and see him turn into a professional photographer. For sure, you will be astonished at the image results!
The lightweight camera is only 38 grams equipped with a 3.5-mega-pixel camera, 8 MB internal memory, time adjustment, and rechargeable battery. You can connect the camera to your PC and download the images taken by your pet reporter. This canine camera can take up to 90 shots. The trademark paw shaped button controls look very cute and becoming of your pet.

This also will prove a good way to spy on you neighbors and pets, strictly in that order. A good way to know how your pet is behaving when on its own, you would also come to know, who ravaged your lawn or who chew your shoes.
PS: If your are skittish about learning more products to help you understand your pet better then try Bowlingual and Meowlingual translators for your pet dog or cat, respectively!
Source: Inventorspot