Don't you found it cumbersome to keep changing the photos in your photo frame to break the monotony? I bet most of you do! In this digital age, it would be surprising if you don't have alternatives that rid you of all the manual labor to change and move things. To tie in with this same fact, Toshiba, better known for its laptops and monitors, has unveiled its stunning Tekbright 7 Digital Photo Frame.


It incorporates almost all the features you could ever imagine in a digital photo frame. With a seven-inch frame, the Tekbright 7 has a stylish silver bezel and a beveled surround. Its rear-mounted kickstand ensures that it would stay wherever you place it. With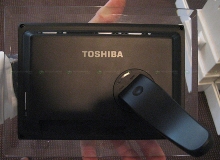 an 800 x 400 resolution and a 400:1 contrast ratio, images will be clearer than ever before. To add to this, it allows you to load up your images via CF, SD, MMC, MS, MSPro, xD, and USB and there's even a tiny 16MB memory built-in to store your most memorable moments, all framed and beautiful.
The only features missing are WiFi abilities and a wireless remote. However, priced at a reasonable €139 ($186), it still is a steal.
Via: ENGADGET