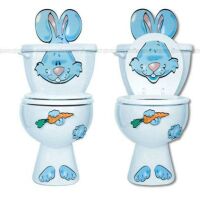 With these Jeckida, Toilet buddies it will be easier for you to make your child aware of the toilet bowl at an early age. Toilet buddies will allow your baby to shift from diapers to toilet with an ease. Most of the kids fear of toilet bowl but with this toilet training accessory there is no possibility of it.
Toliet buddies includes Ca Ca Cow, Puddles Puppy and many more cute characters with their various elements stick on the Velcro-style fastener onto a standard toilet bowl. Animal's face is displayed on the tank and on the toilet lid as well. They feature on the lid with their eyes closed so that your kid won't get conscious that somebody is staring his ass.
Toilet Buddies are easy to clean, non toxic and is priced at $19.95.
Read More Gizmag