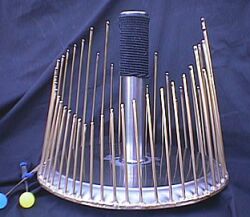 How many of you know that to make the scary sound tracks of The Matrix, Couching Tiger and Hidden Dragon used Waterphones were also used. Yeah all of us have heard the name but are actually unaware of what exactly it is.
It compromises of various bronze rods which are played with a violin bow and with water splashing around in the bottom it produces really scary sounds. Richard Water who made first ever waterphone in San Francisco more than 4 decades back holds the copyright and have made more than thousand pieces as yet.
Lots of film composers already owns one and one of its owner uses it to communicate with wales and dolphins as they love its sound.
It costs $800 for the smaller version and a big one is priced at $1700.
Via Engadget