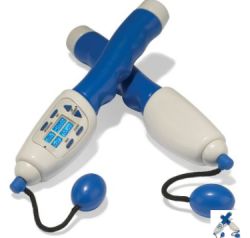 Skipping rope is considered as one of the best workout to burn calories. During my college days, I used to rely a lot on my old jump rope for my boxing workout sessions. And I still remember those embarrassing moments when the rope used to get caught in my feet, forcing me to kiss the ground.
But now the times have changed. With the Ropeless Jump Rope, you can avail all the benefits of rope jumping without the fear of the rope getting caught in your feet. The ropeless jump rope features two handheld units which are capable of monitoring your workout routines. Just input your weight and height into the device and the LCD display shows you the exact calories burned, jump repetitions, and exercise time, or just turn on the talking mode to get a voice response of your exercise progress.
Each handle measures 10″L x 1″W and comes equipped with three 21/2 oz. removable weight inserts. The jump rope makes a snapping sound each time you jump the rope, helping you to maintain proper rhythm. Accessories include a workout DVD and a special travel bag.
The Ropeless Jump Rope sells for $59.95.
Buy it here.