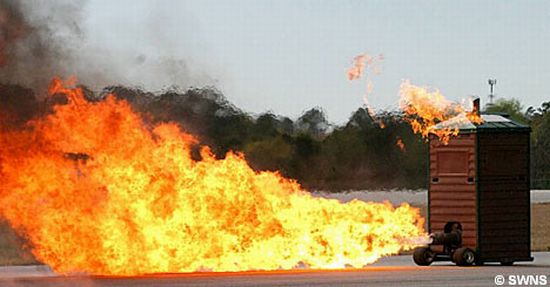 Welcome to this miraculous world of high velocity, where things happen at the speed of lightening; where people fancy routing themselves as fast as a rabbit. Amid all these amazing occurrences, comes this phenomenal slice of technology!Apparently, it counts itself as being the world's fastest toilet. Powered by a Boeing Jet engine and supervised by Paul Stender, the $10,000 vehicle's top speed is in excess of 70mph, and it farts 30 feet long flames from its tailpipe – rather like, as imagined, a man forced to eat ten vindaloos one after another.So, does it imply that nothing is left sacred anymore? What about those 'gemmed' moments of peace and ease when a man could go about his everyday business without the provocations of agitations and disturbances.
This particular storehouse of amusement is claimed to escalate the bath-related-vehicles to a graduated level. If one presumes it to be just another 'ordinary toilet', then its time to rectify those erroneous statements! It is actually a toilet that spits fire. On second thoughts, toilets onboard of aeroplanes are much faster. However, on the contrary there are some teething troubles as well. It is virtually impossible to steer it – since it would be able to operate on only straight and flat roads, so thinking about the high centre of gravity or how one is theoretically supposed to take a turn, is evidently out of the question. Nonetheless, this invention cannot explain where one would be heading to. Video after the jump.
There is a window installed on the toilet so that one can really drive as he is relieving nature. This is another pivotal thought to be laid stress on, since evacuating and driving simultaneously must be included in the definition of such a toilet, otherwise the toilet on a Boeing/AirBus should be considered as the fastest toilet in the world. Anyway, Stender should consider improvising his invention to be more applicable. Here's something to be given a thought on: why do the flames come out of the vents stack? It is hard to understand how will it take a person from one point to the other, but it seems to be a fun way to get the current of adrenaline gushing through.
Nevertheless, I think we should respect the inventor's hard-work and ideal as that of anyone else's, as long as the ideal is not evil. This invention to us is probably the same as that of quantum gravity is to practical people. Still, the inventor Paul Stender seems to hold a convincing diversity towards the creativity of mankind. In spite of this, if it were to run on gas, it could surely be a solution to the menace of global warming.
Source: Attuworld