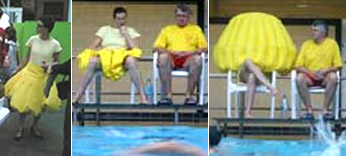 If you are one of those females, who die to get privacy while talking on their mobile phones will love the Life Dress designed by Ann de Gersem.
The basic aim of the dress is to give its wearer the possibility to instantly create a personal space, in which she/he can seclude her/himself from the chaotic surroundings.
The moment you feel you want to create a periphery around yourself, all you need to do is pull up the zipper of your skirt. With this an air cartridge inflates the skirt and a balloon like structures forms around you to give you a private room of your own, inside which you can chat on your phone precisely anywhere and anytime without anyone getting even the slightest hint.
Via: WMMNA