Do you want to know what your ten year son is doing with his friends in his room? Here is the solution – Teddycam (Teddy + camera).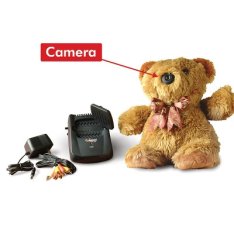 Teddy bear is not only a toy with which your baby can play but also it can perform the role of nanny by monitoring your kid's activities. This is perfect for children of age group one year to fourteen. You can easily monitor the activities of your kids on a display screen connected to it. One good feature of this teddy is that it does not require wire to connect camera embedded in its nose with TV screen.
This sweet, cute teddy can be used in any room because it is based on wireless system. It is built with a 1/3″ CMOS black & white camera, with 582 lines of resolution and an incredibly low minimum light level of 0.5 lux. It has capability to capture image even in low-light situation such as nursery. It also includes a four-channel 2.4GHz receiver, complete with a directional antenna, as well as two AC power adapters. You can get this in $53.99 from SmartHome.
But ladies don't you think this tiny toy can be used to observe our hubbies?