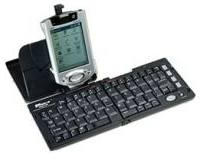 With every new product there comes some restraint. So is with the smart phones or PDAs we use. They have always been such great helps, when we need to send out urgent mails or when we need to take some notes but typing has always been a pain in the neck of the users. However, if you are used to a keyboard then you might find the Targus Universal Wireless Keyboard (PA870U) to be of utmost help.
This smart wireless IR keyboard works with most of the Palm OS and Pocket PC PDAs available now. It also boasts of a 210 degree rotating infrared arm that ensures easy connection with your PDA. You don't have to juggle with the smaller or inconvenient keys. Its regular sized key-board will give the feel of regular notebooks.
Priced at around $5, it seems too good for buying a universal keyboard that runs with whatever PDA you are using. Seems like quite a good gift also for any of your friends, who struggles to type on the PDAs. Now, you can get even smarter with the already smart phone.
Source: Popsci