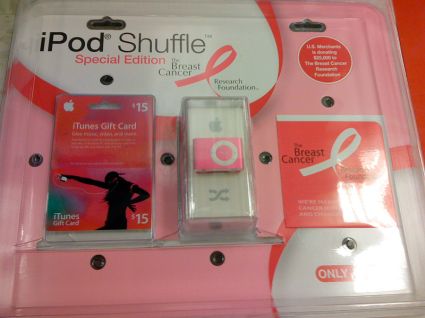 Target is offering the shoppers a special edition pink Apple iPod shuffle and itunes gift card combo, for the month. By purchasing one, you buyers will be doing a noble deed, for the proceeds of each sale will go to the Breast Cancer Research Foundation! The color especially suits the ladies, and so does the deal!

It is not clear whether the promotion is in association with Apple or a move by Target, but it will sure boost the sales. For the $79 that Apple charges for the tiny clip-on digital players, Target is also giving a $15 iTunes gift card.
The donation to support the fight against breast cancer amounts to $25,000 in total!
The special edition combo is available at Target's retail stores, and it is not clear when the supplies may run out, so hurry!
Via: Appleinsider