If you are not one those people who loves to bother them selves by looking at the hands of your wrist watch again and again and punctuality is not a major issue for you then these Talus Watches are simply meant for you.
Though these watches have not landed up in the market as yet but this ultra cool idea may be able to entice a large number of people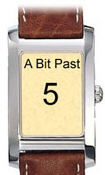 The first one Timeline just displays the hour not the minutes. But the number keep on shifting its place from bottom to top, like if its 2:30 the number will appear in the centre of the dial.
But I found the other one better. As its name suggests About Time, tells you the approximate time like almost two, a bit past two and so on.
Some of you may think that its a pretty useless idea but I must say it's Different. You may not prefer wearing it to the office where every minute counts but a good choice when you are on a date where you are not just bothered with what the time is.
Via Oh Gizmo