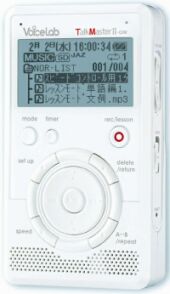 Previous version of TalkMaster was more of a recording gadget than a MP3 player and wasn't worth to be used by professionals.
But the latest upgraded version is loaded with all the important features required to give tough fight to the existing competitors.
All new TalkMaster incorporates all the basic functions of a music player, has a FM Tuner and allows to record directly into the MP3 and gives a comparatively better output.
It flaunts a memory of 1 GB.
Read More Akihabara News