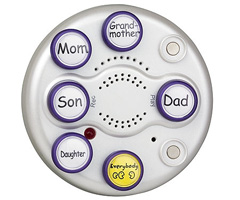 Fridge magnets are a great kitchen accessories to help you communicate with your family members when you are not around. When you scribble your message a piece of a paper and stick it on the fridge, you can be sure that the message will be read. But if you are posting N' number of messages on the fridge, its likely to go un-noticed by the concerned person.
The latest gadget promises to do away with all the clutter on the fridge and makes your job of communication easier. Discovery Message Magnet Set is just the gadget that'll help you record your messages to different members of the family easily. It has six buttons on it and you could record ten second messages on these. Since each button has a picture frame, you could add the photos of your family members and personalize it, so that they could click the button with their picture and get the message straight away.
The message magnet from the Discovery Channel costs $19.95; I think it's a cool gadget since you are not around to hear the groans and sighs of the family members and still get the chores done!