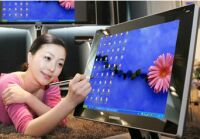 Another amazing product by Samsung Family. Samsung Korea is all set to launch Syncmaster CX719TD for Korean Business to Business market.
It flaunts a 17 inches LCD monitor whose front board works as a touch screen surface. You do not require a mouse with it. Its electromagnetic field allows one to use the stylus to solve the purpose. Its stylus can be used for 3 hours at a stretch. It will cost you almost three times the cost of a normal 17 inches LCD monitor.
Its approximate price would be $920.
Via New launches