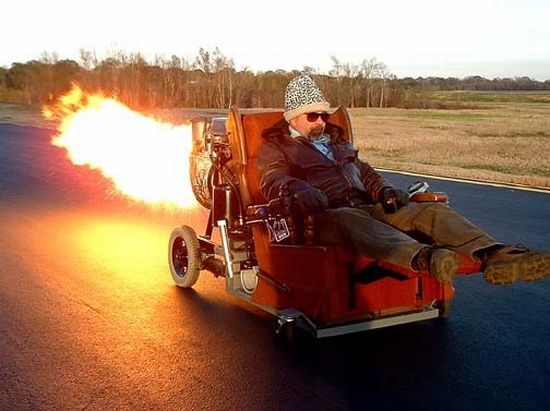 Never underestimate the power of two 17-year-olds. The world learnt it anew very recently. A mysterious object with supersonic speed was spotted zooming along the roads of the town of Gross-Zimmern. Closer inspection proved it to be an office chair! Further investigation revealed that the creative minds behind this unique vehicle happen to be two 17-year-olds. Apparently, the mechanism of this vehicle is pretty simple and consists of a lawnmower engine, bicycle brakes and a metal frame installed onto a revolving office chair.

But the police of course weren't impressed. And not entirely without reason. The perpetrators don't hold licenses and have been accused of defying insurance regulations and violating registration requirements. Though the inventive duo claims to have only tested it for a few meters, local residents have reported it being visible on a number of roads. The end result, the speedy (we don't know the top speed yet) vehicle remains confiscated by the police.
I can't help fantasizing about zooming out of office in this one the next time my boss pesters me about deadlines.
Source: Make