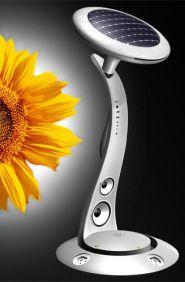 Lots of solar chargers are being launched these days and they become popular soon as they are quite handy in use. Remember the 'Scotty Solar Charger'.
Sunflower solar charger is another one in the line. This mini gadget produces electric power with the help of three built in standard sockets. It's a great product to be used at home as well as in office.
The solar panel of the charger accumulates solar energy throughout the day so as to provide electric power to your appliances in the night.
This solar Power station is designed by Ricardo Baiao .
Read More Yanko Design