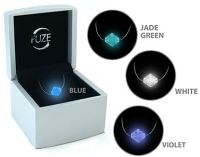 Crystal Fuze necklace which shines during day and night is an awesome fashion accessory which allows you to carry a whole planet around your neck. I don't know a even a single women who doesn't have a fascination for jewelry and this is simply superb.
This necklace is made from a cut Swarovski crystal with a glowing LED, if kept close to eyes; you can see small continents in it. Crystal is powered by tiny batteries and can be switched off if you want to go for a simple look. Available in 4 impressive colors White, Violet, Blue and Green the necklace comes in an attractive pack along with a set of replacement batteries.
With a price tag of just $24.99 its an affordable gift for your beloved on this valentines day.
Via Think Geek