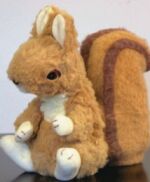 This squirrelbot is a cool tiny, plush gadget which works as a link between you and your mobile phone or this little thing can be called your personal assistant as well. As you get a call from somebody the squirrel checks if the number falls in your approved contacts list and raise a few queries to judge importance. If the call is not worth then it starts off voicemail.
But if it is then with its cute gestures it tries to grab your attention and with just pressing its paw you can speak to your friend at the other end via its speaker.
The functionality is cool no doubts but I guess its appearance could have been better. It doesn't look adorable. What's say?
Via Gizmodo