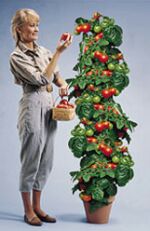 It feels great to see a plant grown by you thriving with flowers or fruits. But most of us are deprived of this joy because of our busy schedules. But here is a cool solution for all of us; The Space Age Bell Pepper or Tomato Plant Kit. What all you are required is to do is to just mix some water with the nutrient mix in a starter cup. It needs a little bit of sunlight for survival and guess what no soil!
You may also require changing the pot as plant the bearing tomatoes will reach up to a height of 6-8 feet and flourishes with almost 25 pounds of tomatoes. Bell Pepper plant also reaches to a height of 20 inches.
They are ideal to be kept in your house or in office as well as its green sight will recharge your batteries whenever you feel tired. This whole kit costs only $4.39.
Also See Green Head