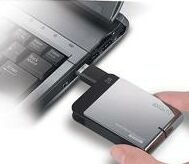 In the age where all USB storage devices are just concentrating on coming up with more funny designs the real, motive of a USB drive have lost somewhere. Thank God Sony has come up with new Microvault Pro, Portable USB Drive which offers a storing capacity of 8GB.
This amazing business card sized gadget incorporates a one inch hard disk into a metal case. It is pre loaded with Sony's Auto Sync for combining it with a Laptop easily. It costs €200, but seems worth buying.
But many of you who don't require a USB drive with big storage capacity, then there are countless cheaper options available for you including Imation's Plush Animal, USB Memory Sticks and many more.
Via Stuff Mag