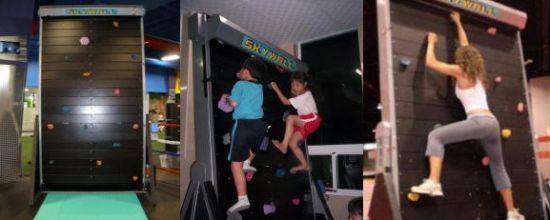 The exercise regime is about to get more technological and adventerous with the world's first ever motorized climbing wall. This debut venture of Exergame Fitness & Avanti Fitness is sure to catch up with the treadmills and fitness equipments as its compact and takes up minimum space.
In the words of the CEO of Exergame Fitness, Tommy Seilheimer
We are very excited to have worked an exclusive partnership with Avanti Fitness for the American market as well as providing our 9 international distributors with a product that is cutting edge and fun. The Skywall is a new innovation in climbing and will provide kids, teens, adults & all climbing enthusiasts with pre-programmed courses which can take competition and personal goals to a higher level. Our company is always focused on products that generate excitement and results right off the bat. When you walk into a room and see the Skywall looking at you, your first response is to climb it. It's simple, engaging and delivers huge fitness based results.
This one is sure to become a rage among the fitness freaks! Happy climbing.