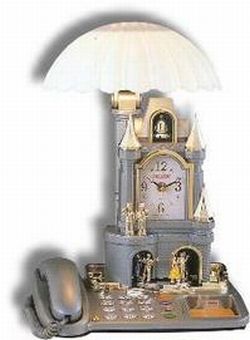 Multi-purpose, multi-function, and so on. Well how about whatever! You see, sometimes in a quest to combine anything and everything companies tend to combine so many varied devices that the result becomes complex, cumbersome and downright impracticable. The Royal Castle Clock Lamp Telephone is one such product. No prizes for guessing that this all-in-one device boasts of a phone – that's bulky, a clock – that's weird and a lamp – that's not of too much use. You look at this diverse assemblage that combines few necessary items and you think what exactly you wanted to use. It measures 16.5″ H X 11″ W and eats 3AA batteries at a time. One thing I will grant to this piece is that it does look cute (only for 5 minutes though!). Here are some specs form manufacturers if anyone is interested:

• Table lamp with 3-level touch-button control (40 Watt Bulb maximum.)
• Slim Line Telephone with hands-free speakerphone and redial.
• Memo pad compartment.
• Motion stage rotates the romantic dancers.
• Precision quartz clock.
• Bluish grey OR goldtone
All these gadgets can be yours for $69 only. Oops it's one gadget; only all-in-one!