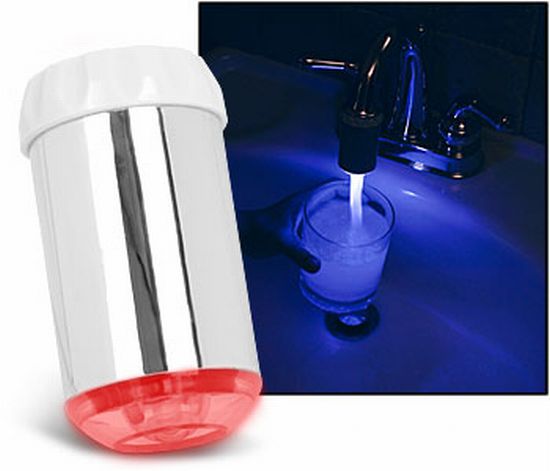 Have you ever seen a tap that offers coloured water when you turn it on? Here is a tap that will give you an impression of coloured water. There is an LED that gets activated when the tap is turned on and deactivated when turned off, this results in a stream of coloured waterfall in your sink or basin. This is another step towards stylish lifestyle, but the other advantage of this gadget is considerable. The colour of the water that is due to the LED will help you a lot in the dark.
Not only this, you also get the advantage of knowing whether the water is cold or hot. There is an inbuilt temperature sensor that turns the colour of the water red when it is hot and blue when it is cold. So it is quite a good idea for those who have small children at home. There is no need to put your hand to know whether the water is hot or cold. This is a great idea for absent-minded people who would otherwise put their hand in hot water and create a problem for themselves.
The gadget requires 3 x LR44 watch cell batteries and these are included in the price and the size is 3 x 3 x 2 cm. The gadget is stated suitable for children above the age of 8, and is priced at £14.99.
Via: Vspot