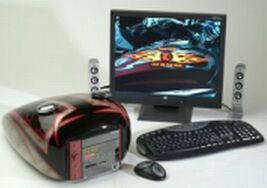 Think tank PC is an awesome product. Apart from the functionality it's a complete style statement. These Pentium 4 and Celeron computers are shaped like a gas tank of a motorcycle with fascinating designs printed on them.
They look so cool! It incorporates interesting features like SATA hard drive technology, 6-in-1 card reader function, AM/FM radio. I think The American Chopper looks the best but it's the most costly one as well. Its price starts at $1420.
Price for other models starts from $1125, which includes, Patriot Flag and Fireball.
Also see Gear Log