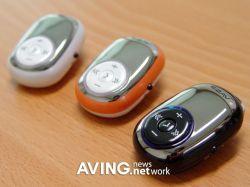 Though several new music players are being launched with distinct features to lure buyers but this one is really fantastic. Introduced by EZAV 'Pebble' is a tiny MP3 player which resembles a pendant. It weighs just 24 grams.
It incorporates a voice recorder, FM radio, 3D stereo sound, can support multi languages. It is available in three colors classy black, funky orange and soothing white. Though a similar kind of music players was launched earlier also but what really gives it an edge over that is its memory of 512MB.
Priced at 129,000(KRW).
The company also plans to launch a clip type model soon.
Also See Gizmowatch