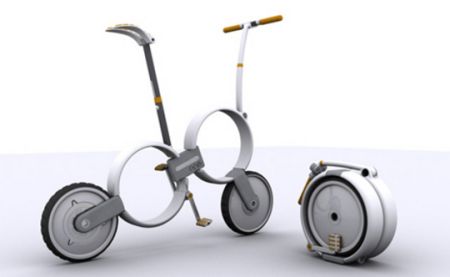 Ever thought how easy and convenient it would have been, if we had been able to pack our homes when on the move! Seems like a dream, but, just suppose that you are going somewhere, so all you do is pack your big house into a briefcase and open it where you wanna spend the next few days. That would have been so cool and in today's lifestyle when everyone is usually on a run, it would have been a cool option. Anyways getting back from my dream world, this idea came to my mind after seeing 'ONE'.
Now, halt your imagination there only because it isn't any house but a cycle. Yeah! 'One' is a stylish and comfortable bicycle which can be packed and transported wherever you go. 'One' provides a real solution to the problems involved with urban transport.
When open, it is no less then any other cycle but an added advantage is that it can be closed too, which forms a compact case that can be easily carried or stored away. That's what I call 'functional'.
Source: Idealist