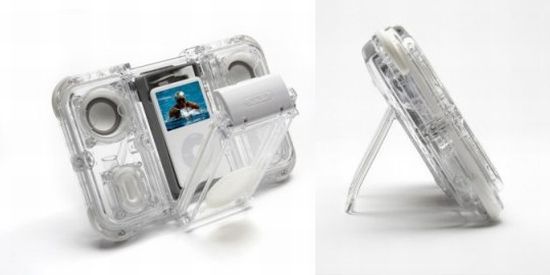 There are thousands of iPod accessories available in market but not many that are waterproof. This Waterproof iPod Sound Case is not only just waterproof but also makes your iPod fully water resistant and will actually float on water.
All you have to do is place your iPod in waterproof case and lock it to get a full personal audio system that is portable and waterproof as well. I am sure that this will be like a dream product for all those adventure crazy people who were worried about the safety of their iPods during trips.
Apart from that this sound case's got adjustable stand for comfortable video viewing and high-powered waterproof speaker system. Powered by 4 AA batteries it can last 30 hours of continuous audio/video playing.

Priced at just $99.99 it sounds like some deal and if you are an adventure freak and can't live through those long trips without music then this must sound like a boon to your ears.
Source: Amazon