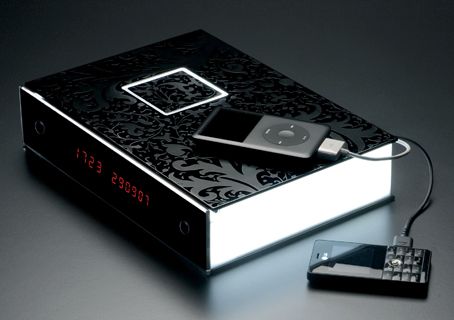 Designers Dante Donegani and Giovanni Lauda have designed a unique and very useful product for household requirements. It is a lamp named MultiBook with various functions. It resembles a book and can be kept on a table, desk or at bedside in your home. It can also be conveniently used while traveling.
Special features of this book-shaped lamp include 74 LEDs for a diffused light surrounding 3 sides of the book. Inside the multi-purpose lamp, there is a 3-way multi-socket and a container for storing cables and transformers. Additionally there is a calendar and digital clock at the backside. The outer cover has an luminous label, where you can fill up your personal details. This product is of sheer artistic brilliance.

The "book-lamp" has been scientifically designed to illuminate light. It has been curved out flawlessly and easy to carry anywhere you go. It's wide spectrum of different functionalities make it a useful and handy, ideal to be kept at home. You can easily lit up your desk without making it messy for there are no cables attached to the lamp.
You can also recharge cell phones and MP3 batteries by it! And check the time on the clock and date on the calendar displayed on the lamp. While traveling, it gives you enough place to store the transformers for electrical appliances. It comes in 4 colors — black, white, lacquer red and blue. Owing to its user-friendliness and variety of use, it is expected to become highly popular very shortly.
Source: kostasvoyatzis