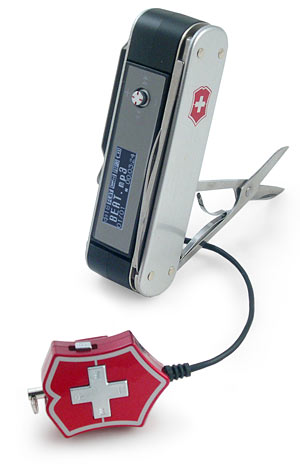 Even if we have a hard time remembering the various functions of the gadgets we own, we still love to show off gadgets loaded with functions, which we may never use also. But this time the fusion is between the practicality of using instruments in day-to-day activities and entertainment. The Swiss Army MP3 player cum knife and scissors is the thing in discussion here.
It is simply amazing to see the multi-purpose official Swiss Army Knife with MP3 Player with LCD display, 1 GB memory capacity, FM radio with almost 15 preset stations and 6 equalizer modes. Its one more USB based device that is simple plug-n-play. USB 2.0It supports MP3, WMA, WAV and Ogg Vorbis formats. You don't require any other software other than the utility CD.
You can even record your precious voice in the digital voice recorder with built in microphone that supports MP3 format. It also gives you freedom to record from other sources also with the help of line-in cable.
Not only the MP3 player but its other utility instruments include 2″ blade, mini scissors, nail file with nail cleaner. You also get a lifetime warranty for the tools included.
So, when you pack your bags, may be it would replace two or three items meant for the various purposes, which this one trendy gadget can perform. Hats off to its multi-tasking abilities!
Source: Thinkgeek