Do you want to live a dream? Yes a real dream, with the entire ambience and the fantasy-like feeling, do you?
Okay, now that's too much of a provocation, isn't it? You may think I am just bluffing you. But dear friends I am not. With the Mist of Dreams at your reach you are all likely to live a dreamy life henceforth. You can actually experience like entering the realm of eternal ecstasy once you step indoors. Now, the next big question is how?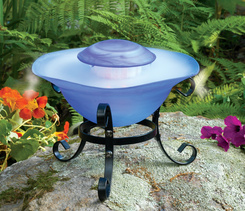 This thing here, the Mist of Dreams is a gizmo capable of creating a colorful mystic world both indoors and outdoors with its specially designed lamp. The only part you take in the creation of this aura is placing the hand-blown blue glass bowl on the black iron stand and add water and some essence to it. There is a connected motor. Soon you find the humidifier producing ghasts of curling fog with a pleasing, sensational aroma that soon spread all around creating a soothing sensation. Don't worry! It's perfectly safe for you, the kids, your pets and even your plants. Once you place it outdoors it's a great thing to display as well.
So what do you say… isn't it worth paying just $29.99 in exchange of a heavenly transformation of your docile? So what are you waiting for just go ahead and buy one, the Item No. is 08-W6494. Come on go and buy a dream for your family.