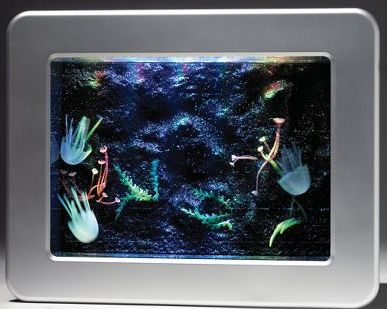 The Hypnotic Jellyfish Aquarium is an illusion of three jellyfish in seawater. The design is self contained and assembled with a pump, lighting and filter. The silent pump generates artificial water current which makes the jellyfish swim in the water. They are also highlighted by the background lightning of the aquarium. Also there are different color options to choose from.
Its look, design and accessories make it very decorative and anyone gets attracted to it immediately. It can be a very smart option for home decor. The Jellyfish aquarium is light weight which can be mounted on the wall and decorated on desk tops or on any shelf in the drawing room.

LED has replaced metal halides and fluorescent lighting for aquarium reef lighting. It saves up to 40 percent energy and its life is 50,000 hours. Even different types of lighting like sunrise, sunset, daylight, light covered with clouds etc. can be set up separately with the help of inbuilt microprocessor and a cycle of different kinds of lighting goes on.
These types of artificial aquariums have replaced the real ones because one can never judge from a distance whether it is real or not. Also with the real aquariums we have to take care of the fish- their food, cleanliness and a lot more things have to be considered. And with the introduction of these types of illusion, all you have to do is plug in and give a virtually real atmosphere to your living or drawing room.
via: Gadgetgrid