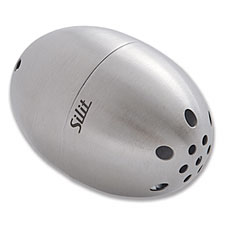 Refrigerators and that annoying mixed food smell go hand in hand. I can't recall the number of times I've tried using baking soda to make that smell go away.
Well, here's something that interests me and I am sure that you'll be interested too. This is Egg shaped Deodorizer for Refrigerator, made from stainless steel and can last for months in one go.
What's even more fascinating about this small thing, is the way you renew (refill) it, just heat it in the oven for 30 minutes and it will again be ready for the job. You can own Deodorizing Refrigerator Egg for $16.50 and it is being sold by KingArthurFlour.
Via: KingArthurFlour