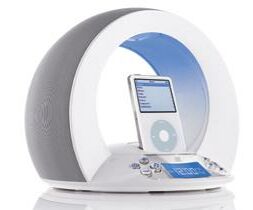 Now wake up to your favorite tunes in the morning instead of those useless beeps you have been tolerating from last so many years. All you have to do is just to bring these JBL's On Time speakers home.
It comes with a Universal Dock Adapter for Apple iPod, compatible with almost all the models of iPod. But don't loose heart if you don't posses one as these can be connected to other MP3 players with a great ease the only requirement is the 3.5mm headphone jack.
You don't have to be bothered about its position as its 360 degree sound field gives a good output from all the directions. It also has AM/FM radio, what else you want. So order one now and be ready for an appreciation from your boss as you will never be late again.
It is priced at £120.
Via Stuff