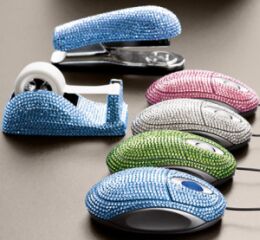 Thanks to the Rappers the Bling culture is going great guns. You turn around and I can bet you will definitely find something blingy even in places where it is least important.
Gone are the days when the workstation was a place that was expected to be sober and formal, but today the bling culture has swayed over this place too. Here is a blingy desk set that enough to jazz up your desktop.
The swarovsky-encrusted desk set from Neiman Marcus includes a cello tape dispenser, a stapler and an optical mouse all starting off from a price of $100.
Via: Techiediva